AdventureWeek "Bergdoktor meets SokoKitz"
Tuesday, October 10, 2017
10:00 ClockTue
Drehort SokoKitz in ScheffauDorf 286351 Scheffau am Wilden Kaiser
Description
Our hiking guid walks with you through the romantic Rehbachklamm and on the farms Schießling to the " Pochlarner Stuben " which is famous from the popular ORF and ZDF television series " SOKO Kitzbühel ".
Here we can look behind the scenes of this beautifully situated shooting location, and maybe we will discover some other surprises.
After this experience at the SOKO Kitz we walk back along the Wegscheidbaches into the village and at least we go to the Kneippanlage.

Participants: minimum 6 people , maximum 50 people . Dogs are not allowed!
Costs: € 8, - per person
You need : hiking equipment ( good shoes , drink , sun or rain protection )
Walking time : about 3 hours , difficulty: easy
Meeting point: Tourist office Scheffau , Village 28 , 6351 Scheffau
Further dates
This event will be repeated on the following dates.
Book offers
AdventureWeek "Bergdoktor meets SokoKitz"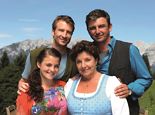 Linked Info A-Z
Wilder Kaiser - Information Scheffau